Previous days
Day 1 & 2
.
Day 3
.
Day 4
.
Day 5
. Day 6 . day 7
So over the last few days I've only sort out a few more locations from Supernatural.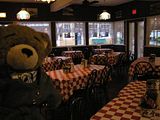 ( cut for lots of pics )
screen caps from all the episodes copyright of CW and WB.
and thanks again to Bigpink, and Sasquashme for the locations! i couldnt have done this with out you!!!
Locations used from
Bear Hun
t